There are so many products such as food containers, bottles, kitchen utensils that are made of plastic. Clear plastic approved by the FDA is widely used for manufacturing upper parts of electric food steamers such as tiers, dividers, rice bowls and lids. The bases are often made of steel or another type of plastic.
Plastic food steamers
Clear plastic is often used to manufacture electric or non electric food steamers. Comparing them to stainless steel, aluminum and microwave steamers they have pros and cons.


The benefit of clear plastic food steamer is that it's lightweight, compact for easy storage and allows you to watch the steaming process without lifting a lid. Plastic upper parts are easy to clean in a dishwasher.
The bad side is that plastic contains chemicals, that may leech into the food during heating. Below is the list of the best plastic food steamers.
       Best plastic food steamers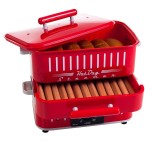 CuiZen ST-1412 home hot dog bun steamer is made of plastic to steam up to 12 hot dogs and 12 buns at a time. It is easy to use steaming machine with 60 minute timer. It consists of the base, 2 drawers and a lid.  CuiZen ST-1412 home hot dog steamer features Steams a variety of foods. Steams up to 12 Hot Dogs & 12 Buns in 12 minutes at one time. The warmer … Read Review