Marna manufactures handy silicone lids for pots, plates, bowls and mugs. They don't contain BPA and are suitable to prepare foods for the whole family.
Marna silicone lids are multifunctional. Marna silicone lid covered on the plate or bowl with the same diameter, allows to create a complete seal for steaming foods in microwave in a few minutes. Lids are handy to use at home, at work or in a hotel room. They are easy to use and clean.
We reviewed Marna best steamer lids and created a list of the best Marna piggy silicone steamer lids for microwave.
         Best Marna Piggy Microwave Silicone Steamer Lids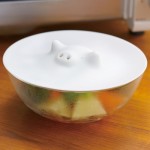 Marna white Piggy microwave silicone steamer cover lid 8.5″ is designed to use with any pot, plate or bowl to cook foods in microwave or on the stove. It releases pressure through the holes in the nose and keeps steam and … Read Review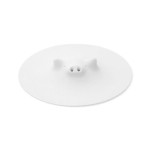 Marna white Piggy silicone steamer 6.9″ is not a full steamer. It's just a cute microwave silicone lid cover for a pot, plate, bowl or other dish with the same diameter. Lid has holes in the piggy nose that release pressure, but … Read Review