Farberware
Farberware is a well known and trusted brand which manufactures kitchen and household appliances. It was established over 100 years ago and went through management changes.
At the present time Farberware brand license belongs to Meyer Corporation which is one of the largest distributor of good quality cookware in the world.
Development in right directions, intention to meet buyer needs and innovations led the company to success. Farberware is using the best materials and technology to manufacture all their products.
Farberware food steamers.
Farberware manufactures non electric and electric food steamers (wok with steamer insert), pots with steamer inserts from stainless steel which are in high demand. We reviewed and listed best Farberware stainless steamer with pros and cons.
       Best Farberware Stainless Steel Food Steamer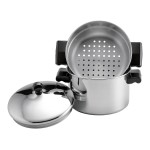 Farberware 3 quart steamer pot is a small mirror polished stainless steel multi purpose cooker with steamer insert and a stainless steel lid. It prepares 2-3 servings of food. Farberware stainless steel 3 quart steamer pot features 18/10 polished to a mirror finish stainless … Read Review