On this page we listed Progressive microwave steamer reviews. They are made of plastic and BPA FREE according to the official manufacturer website. Progressive Steamers are handy for use at home, work or in a hotel room. They steam cook a variety of foods.
About Progressive International
Progressive International is a well known company that offers good quality products at affordable prices. The company manufactures a variety of kitchen products for cooking, baking and steaming. It uses different types of plastic in their products.


        Progressive BPA FREE Microwave Steamers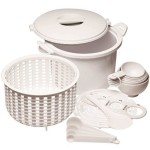 Prepworks from Progressive microwave 12-cup rice pasta cooker is a 17 piece BPA FREE plastic set. It includes pasta strainer, steaming insert, pasta measurer, measuring cups, spoons, rice paddle, lid and instruction manual. Prepworks from Progressive microwave rice pasta cooker features 12 cups capacity. … Read Review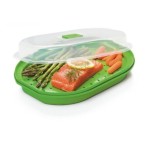 Prepworks from Progressive 1 quart microwave steamer is BPA FREE green plastic fish and vegetable steamer with clear lid. Progressive microwave steamer features According to the official manufacturer website, it's BPA FREE. Steams vegetables, fruits and fish. 1 quart capacity. Steamer prepares … Read Review