Are you looking for a small home hot dog steamer? This page has a list of affordable small hot dog steamers that are designed for home use. They have well built portable constructions and handy features to steam cook your dogs perfectly. We reviewed small capacity hot dog steamers and listed them below.
       The Advantages of small home hot dog steamers
Steaming is a healthy oil free cooking method. Cuizen home hot dog steamer and bun warmer has a beautiful retro design. It steams 12 dogs and 12 buns in 12 minutes.
Maverick home hot dog steamer looks cute on the counter top. It steams 6 dogs in 9 minutes. It "barks" when the cooking cycle is completed. Maverick steamer is designed to steam hot dogs only. It doesn't have the bun warmer feature. They are easy to clean and operate. They are lightweight and portable.


      A List of the Best Small Home Hot Dog Steamers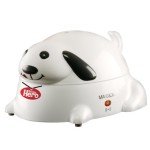 Maverick HC-01 Hero hot dog steamer is an electric small home dog steam cooker designed to steam up to 6 hot dogs in 9 minutes with auto shut off. Maverick HC-01 Hero hot dog steamer features Cooks up to 6 hot dogs in … Read Review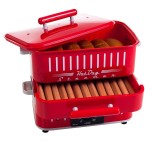 CuiZen ST-1412 home hot dog bun steamer is made of plastic to steam up to 12 hot dogs and 12 buns at a time. It is easy to use steaming machine with 60 minute timer. It consists of the base, 2 drawers and a … Read Review