There are many plastic electric and non electric food steamers on the market. We reviewed steamers that are made by well known and trusted companies. Some of them are made of Bpa Free plastic some are not.
About Bpa in plastic food steamers.
Bisphenol A (BPA) is a chemical produced to manufacture epoxy resins and harden plastics. Plastics that contain BPA are clear and are unfortunately used to manufacture food steamer parts that contact the food, water bottles, food containers, metal food and beverage cans and other products that contact the food. These products are approved as safe at very low BPA levels by the Food and Drug Administration (FDA). There are great detailed articles available to read about BPA, research, studies, negative health effects of BPA and neurological effects on http://en.wikipedia.org/wiki/Bisphenol_A
                                         BPA FREE Food Steamers


BPA FREE plastic steamers
Steamers that don't contain BPA are suitable to cook food for the whole family including babies. We picked best BPA FREE steamers and created a list of the best BPA FREE food steamers.
Best BPA FREE Plastic Food Steamers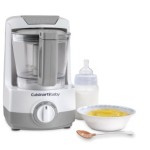 Cuisinart BFM-1000 baby food maker and bottle warmer is all in one BPA FREE food steamer, blender and milk bottle warmer with 4-cup capacity bowl. You can start using the Cuisinart baby food maker from your baby's first day of life to warm bottles of milk or water. When your baby is ready to eat foods you can steam and puree, fresh fruits, vegetables or meats. For a toddler steam and chop foods less time for more texture. Cuisinart baby food maker features specific design … Read Review