Tiger Corporation was founded in Osaka, Japan. Tiger manufactures rice cookers and other products. Some rice cookers are made in China, some are made in Japan. Tiger rice cookers are high quality expensive products, but they last for a long time.
                                   Tiger rice cookers
Tiger manufactures a few types of rice cookers. Tiger basic rice cookers are designed to cook rice, but advanced multi purpose rice cookers are designed with extra features to cook different types of dishes.
We picked and reviewed best multi purpose Tiger rice cookers that come with steam baskets to steam foods and created a list of the best Tiger rice cookers.
                          Best Tiger Rice Cookers Steamers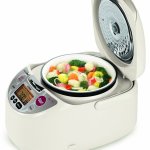 Tiger JAH-T18U Micom 10-Cup rice cooker has spherical far-infrared ray coated inner pot, detachable inner lid and steam vent cap. It holds 10 cups of uncooked rice and includes steamer and slow cook functions. Tiger JAH-T18U Micom 10-Cup rice cooker features Holds 10 cups of … Read Review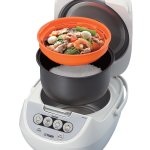 Tiger JBV-A10U Micom 5.5-cup rice cooker includes slow cooker and steamer functions. It comes with BPA FREE steam tray and nonstick inner pot that holds 5.5 cups of dry uncooked white rice and 3.5 cups of dry brown rice. Tiger … Read Review