These baby food steamers with blender function are all in one BPA FREE baby food makers that are safe and suitable to steam and blend foods for babies and toddlers. They make nutritious homemade baby food with minimal effort. They are also called "baby puree makers".
About BPA in plastic food steamers
Bisphenol A (BPA) is a chemical produced to manufacture epoxy resins and harden plastics. Plastics that contain BPA are clear and are unfortunately used to manufacture food steamer parts that contact the food, water bottles, food containers and other products that contact the food. These products are approved as safe at very low BPA levels by the Food and Drug Administration (FDA). There are great detailed articles available to read about BPA, research, studies, negative health effects of BPA and n
eurological effects on http://en.wikipedia.org/wiki/Bisphenol_A
Baby food steamers and blenders make a variety of purees with different textures
Baby food steamers and blenders are designed to prepare many servings and freeze them. The steamer function allows you to steam cook meats, fruits and vegetables without losing nutrients. The blender function allows you to blend steamed foods until desired softness and thickness are reached. For preparing toddler's food blend less time for more texture. 
We included Cuisinart baby food steamer and blender that features additional bottle warmer function. You can start using it from your baby's first day of life to warm bottles of milk or water. When your baby is ready to eat you can use the steam and chop functions to prepare food for baby or toddler.
Note: Beaba Babycook baby food steamers and blenders are BPA, Lead and Phthalate free. 
Below is the list of the best baby food steamers and blenders. Our choice was based on quality, capacity, functionality, integrated features and material.


          Best Baby Food Steamers and Blenders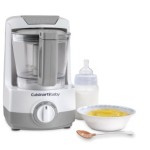 Cuisinart BFM-1000 baby food maker and bottle warmer is all in one BPA FREE food steamer, blender and milk bottle warmer with 4-cup capacity bowl. You can start using the Cuisinart baby food maker from your baby's first day of life to warm bottles of milk or water. When your baby is ready to eat foods you can steam and puree, fresh fruits, vegetables or meats. For a toddler steam and chop foods less time for more texture. Cuisinart baby food maker features specific design  Cuisinart baby food maker comes with an adapter ring that prevents the bottle from moving and shaking. You will need it … Read Review