Zojirushi is a japanese company that manufactures high quality rice cookers and other appliances. Some rice cookers are manufactured in Japan and some are in China and other countries.
                                 Zojirushi rice cookers
Most Zojirushi rice cookers have micro computerized fuzzy logic technology that allows you to prepare variety of rice and other types of foods. They are easy to use and care. Zojirushi also manufactures basic one touch operation rice cookers with only one cook controls. They are also in high demand.
We reviewed and created a list of the best Zojirushi rice cookers that come with steam baskets.
                        Best Zojirushi Rice Cookers Steamers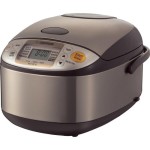 Zojirushi NS-TSC10 5.5 Cup Micom rice cooker steamer with micro computerized fuzzy logic technology prepares a variety of rice and other foods. Zojirushi Micom rice cooker steamer has 1.0 liter and 1.8 liter capacity variations. Zojirushi NS-TSC10 5.5 Cup Micom … Read Review
Zojirushi NHS-10 6-cup rice cooker steamer is a basic rice cooker without time or temperature controls. It has only one cooking switch. Zojirushi NHS-10 6-cup rice cooker steamer features One touch operation. Cook and Warm indicator lights. Non-stick removable inner bowl. When … Read Review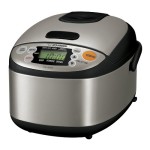 Zojirushi NS-LAC05XT Micom 3-cup rice cooker with micro computerized Fuzzy Logic technology pre-soaks, adjusts cooking times and temperatures according to the type of rice you are cooking. Zojirushi NS-LAC05XT Fuzzy Logic Micom 3-cup rice cooker features Holds 3-cups of dry rice yielding … Read Review