Fagor is a well known and trusted brand. Company manufactures food steamers, pressure cookers with steamers (baskets) and other products.
Fagor pressure cookers
Fagor manufactures a few lines of 18/10 high quality stainless steel pressure cookers with 3 ply encapsulated bases for even heat distribution. Duo line pressure cookers have 2 different pressure settings (Low and High).
We picked best Fagor pressure cookers that come with steaming baskets and trivets. Steaming basket can be used with pressure cooker to steam all kinds of foods. Pressure cooker steams food faster than a regular steamer.
We revieved best Fagor pressure cookers with steamers and created a list of the best Fagor pressure cookers.
                Best Fagor Pressure Cookers with Steamers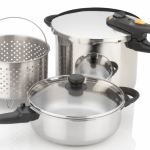 Fagor Duo 5-piece pressure cooker steamer pasta set is multi purpose stainless steel set with pressure & glass lids, thick 3 ply bases and Low-High pressure settings. Fagor Duo 5-piece pressure cooker steamer set features 18/10 stainless steel constructions with 3 ply encapsulated … Read Review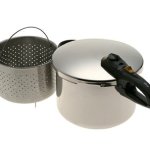 Fagor 8-quart pressure cooker is a multi purpose stainless steel cooker that has high-low pressure settings and comes with a steamer basket for steaming foods & cooking pasta. It works on ceramic, gas, electric and induction cooktops. There are  4 qt, 6 qt, 8 qt … Read Review