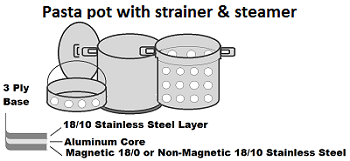 Are you looking for a pasta pot with a strainer and steamer? This page has a list of pasta pots with strainers and steamers that are made of stainless steel.
  The advantages of pasta pot with strainer and steamer
A pasta pot is a versatile cylindrical stock pot that comes with a fitted perforated strainer insert to cook and drain any type of pasta quick and easy. For cooking very small rice or bead-like pasta types choose a pasta pot with mesh pasta insert.
Strainer inserts prevent the pasta from sticking to the bottom of the pot. It's also suitable to boil or steam, large size poultry or vegetables and lift it with ease.
An outer pasta pot can be used on its own to cook soup, stew, sauces, grains, and more. Some models come with perforated steamer baskets. They allow you to steam and cook a variety of foods simultaneously while pasta cooks below.


           Pasta pots construction and compatibility
All pasta pots that we reviewed are made of stainless steel with 3 ply thick and durable encapsulated bases to provide even heat conductivity. They are beautiful and clean up is a breeze.
Most of them are perfect for use on all heating surfaces, including induction.
We listed pasta pots with varied capacities that will prepare perfect pasta for singles or the whole family in minutes.
Below is the list of the best pasta pots with strainers and steamers.
              Best Pasta Pots with Strainers and Steamers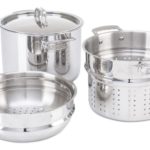 Viking 8 quart, 18/8 stainless steel pasta pot with strainer & steamer basket has durable riveted handles & 3 ply magnetic base. It works on induction, ceramic, gas & electric cooktops. Viking 8 quart pasta pot construction Viking pasta pot is made of high grade 18/8 stainless steel with aluminum core in its base for even heating. The base has external 18/0 magnetic stainless steel layer for induction compatibility. It contains 18% of chromium content and 0 % of nickel content. Chromium … Read Review
Some people call a pasta pot a pasta cooker. It can also be referred to as a multi-pot or a pasta maker. But they are all a pasta pot.