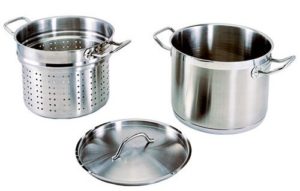 Update International 12 quart stainless steel pasta pot consists of induction ready 12 qt stock pot with 3 ply magnetic base, pasta strainer and a stainless steel lid.
Update International pasta pot construction & compatibility

Update International 12 quart outer pasta pot, pasta strainer insert and a lid are constructed of 18/8 stainless steel. The outer pot has 3 ply 18/0 stainless steel encapsulated base with aluminum core for even heat conductivity and magnetic external layer for induction compatibility.
It contains 18 % of chromium content and 0 % of nickel content in its base. Chromium is hard and rust resistant metal. Nickel enhances the hardness and rust resistance of stainless steel, but makes it non magnetic.
Since the base doesn't contain nickel, it's more likely to rust without proper care. Hand dry is recommended to prevent rusting.
The pots base is also smooth and compatible with ceramic glass cook-top.
Update International 12 quart pasta pot works on glass, electric, gas and induction cook tops.
Due to 3 ply construction that provides even heating pasta expands and cooks evenly.
The handles are large for comfortable lifting. They get warm if you cook recipes with a short cooking time. The heavy lid doesn't have a vent to release the steam, so food cooks quickly. It fits the strainer and the pot.
Update International 12 quart pasta pot review
Note: Unlike other pasta strainers this pasta strainer doesn't sit very deep in the pot. It holds and cooks 1 lb – 1.5 lb of dry pasta with plenty of room for the water to circulate around the pasta.
It can be used as a steamer to steam medium and large size vegetables, seafood and poultry. The outer pot can be used on its own to cook soup, stew, sauces, legumes and more.
Update International pasta pot dimensions
The pot height is ≈ 9.5 inches.
The pot diameter is ≈ 10 inches.
Pasta strainer height is ≈ 6.5 inches.
Pasta strainer diameter is ≈ 10 inches.
The pot with strainer & lid is ≈ 12.5 inches. Check price


These pasta pots work on induction, ceramic glass, electric & gas cook-tops. 
Update International Induction 12 Quart Stainless Steel Pasta Pot with Strainer
Works on all heat sources
10.0/10
3 Ply Magnetic Base Construction
10.0/10
Pros
Update International 12 quart pasta pot works on glass, electric, gas and induction cook tops.
All stainless steel construction.
Versatile. Cooks pasta, soup, stew, sauces, legumes and steams a large variety of foods.
Dishwasher safe, but