There are many bamboo steamers available on the market that are made by different brands.
Bamboo Steamer
A bamboo food steamer is constructed of woven bamboo and consists of a few stackable baskets. Due to it's natural composition the steamer needs a bit of care before use and after. For steaming large quantities of food, additional baskets can be added.
A Bamboo steamer is a very attractive kitchen appliance. Food can be served directly from it. Comparing it to all other steamers bamboo food steamers cannot be used directly on the stove and requires additional pot, wok or even skillet that is a larger size than steamer. Since the baskets of bamboo steamers are not tall, it is suitable for steaming small size vegetables. Large products such as, artichokes, chicken, cauliflower, head of broccoli will not fit in a bamboo basket. Using parchment liners, corn husks, cabbage, lettuce and banana leaves prevents food from sticking to the bottom.
We reviewed best bamboo food steamers and listed them below.


       Best Bamboo Food Steamers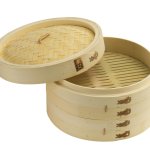 Joyce Chen 10-inch bamboo steamer consists of 2 woven bamboo tiers and a domed lid. It steams fish, shrimp, vegetables, chicken breast and fruits. Joyce Chen 10-inch bamboo steamer features. 2 tier woven bamboo construction. Steams vegetables, chicken breast and fish. Includes 2 stackable baskets with domed lid. Requires a wok or a pot. Measures 10 inches in diameter Hand washing is required.  Joyce Chen 10″ bamboo steamer review. Bamboo steamer needs care before use and after due to it's natural wood composition. … Read Review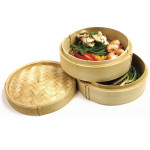 Norpro Deluxe 3-piece 10 inch bamboo steamer set is a 2 tier food steamer that requires additional pot or wok. The wok top diameter has to be at least 1 inch or 2 inches wider, so steamer can fit inside to create complete seal. How to use Norpro deluxe 3-piece 10 inch bamboo steamer set. Soak the bamboo steamer in cold water for a few hours before use. The wok is the best cooking equipment to use with bamboo steamer. Due to it's … Read Review