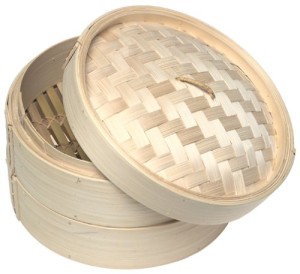 Norpro Deluxe 3-piece 10 inch bamboo steamer set is a 2 tier food steamer that requires additional pot or wok. The wok top diameter has to be at least 1 inch or 2 inches wider, so steamer can fit inside to create complete seal.
How to use Norpro deluxe 3-piece 10 inch bamboo steamer set.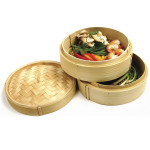 Soak the bamboo steamer in cold water for a few hours before use.
The wok is the best cooking equipment to use with bamboo steamer. Due to it's trapeze shape it fits most bamboo steamers. For steaming soft vegetables such as broccoli, add 1 cup of water in a wok, for steaming hard carrots and potatoes, add 2 cups of water, place vegetables on tier, cover with bamboo lid and steam. Since the food cooks faster in bottom tier always place, chicken or fish there and vegetables on the upper tier.
For steaming fish and chicken, add 2-3 cups of water in a wok. They need more time for cooking.
Leave at least 2 inches between water level and the bottom tier, so water doesn't reach tier during the steaming process. Food contact with bamboo can leave stains on tier, to prevent it place parchment steamer liners, lettuce or banana leaves on each level before loading. Parchment liners are perforated for even steam circulation. If you are using banana or lettuce leaves make a few holes for even steaming.
Norpro Deluxe 3-piece 10 inch bamboo steamer set steams all kinds of vegetables (cut large vegetables in small pieces), dumplings, chicken breast and fish. Norpro bamboo steamer prepares 3-4 servings.
There are 2 ways to prepare meats and vegetables in bamboo steamer.
Load 2 tiers with products and steam. If vegetables in upper tier are cooked, tier can be removed, while chicken breast or fish in bottom tier continue steaming or steam meats in bottom tier first, then add upper tier with vegetables.
Norpro Deluxe 3-piece bamboo steamer set dimensions: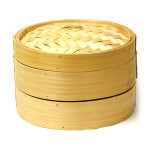 Tier height is 2.75″
Tier diameter is 10.5″
Norpro Deluxe 3-piece bamboo steamer set cleaning & care
Hand wash bamboo steamer with water. Allow it to air dry, then apply a thin layer of any cooking oil (vegetable, corn or olive) to prevent the bamboo from drying out.