There are many food steamers that are made of metal. Some of them are induction compatible and work on induction cooktops, some are not. The best way to check it is to see if a magnet sticks to the bottom of the steamer. If it does it is induction compatible. But what if you want to purchase a steamer online? How to check it ? Some product descriptions will tell you or have the induction symbol, some don't.
Induction Ready Steamers & Pasta Pots


Magnetic metal steamers are induction compatible.
Induction cooktops work well with any steamer pots with a high ferrous metal content at their bases. Cast iron is a magnetic metal, so any cast iron pot will work on induction cook top. When searching stainless steel steamer for induction cooktop look for a stainless steel pot that is made of 18/0 magnetic grade stainless steel, 18 % of chromium content and 0 % nickel content. Chromium is a hard, rust and corrosion resistant metal. Nickel is a corrosion resistant and shiny metal that is often used to coat other metals. Nickel enhances the hardness, corrosion and rust resistance of stainless steel, but makes the ferrous content non magnetic. In simple words lower quality 18/0 stainless steel (without nickel) steamer pots are cheaper and more likely to rust (than 18/10), but are induction compatible.
Due to poor stainless steel conductivity some 3 ply, 5 ply and 7 ply stainless steel steamers have an aluminum core in their bases for even heat distribution with 18/0 magnetic grade stainless steel layer added for induction compatibility. Quality and durability of the steamer also depends on the manufacturer. There are many 18/0 products on the market made of high quality fine stainless steel. When purchasing steamer or other metal cookware for induction cooktops choose one from well known, trusted companies.
Remember: In order for stainless steel steamer pots to be induction compatible they have to have 18/0 stainless steel or other magnetic metal added into it. 
                                       Induction Ready Steamers


    List of Metal Food Steamers for Induction Cooktops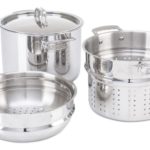 Viking 8 quart, 18/8 stainless steel pasta pot with strainer & steamer basket has durable riveted handles & 3 ply magnetic base. It works on induction, ceramic, gas & electric cooktops. Viking 8 quart pasta pot construction Viking pasta pot is made of high grade 18/8 stainless steel with aluminum core in its base for even heating. The base has external 18/0 magnetic stainless steel layer for induction compatibility. It contains 18% of chromium content and 0 % of nickel content. Chromium … Read Review