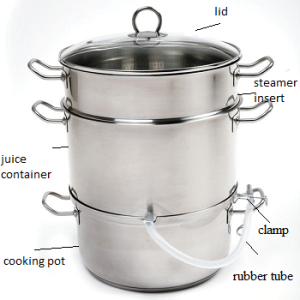 Norpro stainless steel steamer & juicer is a multi purpose cooker & juice extractor with 3 ply magnetic encapsulated base for induction compatibility and a glass lid.
Norpro stainless steel steamer juicer features
Stainless steel construction.
Oven safe to 400F/205C.
Steamer insert  11.75QT/11L capacity.
Juice container  4QT./3.8L capacity.
Cooking pot 7.25QT./6.75L capacity
The set includes cooking pot, juice container, steamer insert, glass lid, rubber tube, clamp and recipes with instruction booklet.
All pieces fit together.
Induction compatible.
Dishwasher safe, but hand washing is recommended.
Made in China for Norpro.
Norpro steamer & juicer construction
Norpro steamer-juicer is sturdy due to its high quality professional stainless steel construction with aluminum core in its base.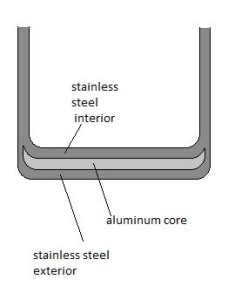 Aluminum is durable, lightweight and corrosion resistant metal. It's known for its even heat distribution. An aluminum disk is placed between stainless steel layers to provide fast and even heating.
Stainless steel interior finish makes cleaning easy. Stainless steel exterior layer added to make the pots base thicker and more durable. Juice container and steamer insert are lighter than the base.
The glass lid lets you watch the cooking process. It releases pressure through the vent but keeps the steam and moisture inside.
Multi-purpose N
orpro steamer & juicer.
A large capacity steamer can be used as a regular steamer for steaming vegetables, poultry, seafood and more. Large items such as corn on the cob, cauliflower, heads of broccoli, pumpkin, squash, a whole bunch of asparagus, whole chicken will fit in the steamer insert easily.
The water pot can be used on its own for cooking stew, soup, legumes, sauces or baking casseroles. It's oven safe to 400F/205C.
How to extract fruit juice with Norpro steamer & juicer.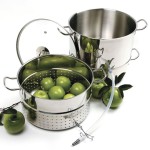 With a juicer & steamer you can make a lot of juice without a mess. Norpro steamer & juicer comes with instruction booklet.
You will find a lot of good recipes with steaming time for various types of fruits and useful tips in a booklet.
To extract fruit juice:
Fill the base (water) pot with 4-5 quarts water.
Place juice container on the base. (It's the container where all the juice is going to collect. Juice container has funnel in the middle, which lets the steam go through it to steamer insert loaded with fruits and steam them)
The set comes with rubber tube and clamp. There is a small narrow stainless steel pipe close to the bottom of the juice container, where you need to put on a rubber tube in order to take the juice out of the container. Using a flexible rubber tube you can fill jars, pitchers and have full control over the juice flow with clamp.
Load steamer insert with desired washed fruits and place it on juice container.
Cover with glass lid and steam required time.
Norpro steamer & juicer extracts juice from small seeded berries. Instruction booklet has all directions how to get juice from small berries without seeds. Follow the instructions or use cheesecloth as a steamer top chamber liner. Check price 
Make delicious jelly with Norpro stainless steel steamer & juicer. After you extract the juice, don't throw away the pulp. Recipe booklet has nice jelly recipes. Use it to make delicious jelly. No wasting.


Norpro Stainless Steel Steamer & Juicer
Professional stainless steel
10/10
Pros
Professional stainless steel steamer & juicer with aluminum core in its base.
Multi purpose juicer & steamer: cooks soups, steams foods, bakes casseroles and extracts juice.
Oven safe to 400F/205C.
Glass lid allows you to monitor the cooking process.
Induction compatible.