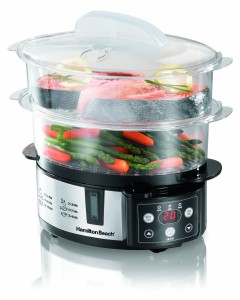 Hamilton Beach digital 2 tier food steamer is a multi purpose plastic steam cooker with a lot of great features. It steams corn, eggs, rice, vegetables, meats, seafood and more.
Hamilton Beach digital 2 tier food steamer 37537 features.
2 tiers and removable divider allow you to steam large products.
Printed graphics on the base with recommended cooking time.
Delay start time. Maximum 60 minutes cooking timer.
The countdown timer window. On/Off.
Water level window with minimum and maximum lines.
The steamer consists of the base, 2 tiers, lid, rice bowl, black drip tray, removable divider.
Comes with instruction booklet and rice bowl.
Dishwasher safe except for the base.
Compact for easy storage.
Made in China for use in the US.
120V, 60Hz, 650W.
Cord is 26″ long with 2-prong plug (plugs into a standard American outlet). 1 year limited warranty.
  How Hamilton Beach digital food steamer works
Pour water in a reservoir in the black base until the Max line and cover it with the black lid (drip tray).
Place foods with longer steaming time in the bottom clear tier over the black lid.
Place foods with shorter cooking time upon bottom tier.
Turn it on.
Set up the delay time (optional), cooking time and cover it.
After the delay time ends it starts cooking automatically.
When the steaming cycle is completed it switches to keep warm automatically and alerts you with a beep.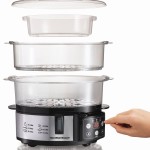 If the water level in the reservoir gets too low steamer will switch off and flash.
The steamer doesn't have an external inlet (spout) to pour water without interruption, you will have to take the clear baskets off from the base in order to add water and continue steaming process.

Cook variety of foods in Hamilton Beach digital 2 tier steamer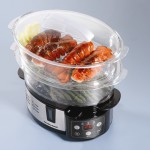 Hamilton Beach digital 2 tier food steamer steams seafood products, such as mussels, lobster, shrimp, clams, oysters and fish.
While steaming seafood in one tier you can steam side dish in another basket such as rice, asparagus, potatoes and more.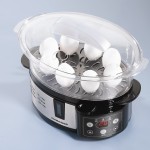 Both baskets have indentations to hold eggs. Each basket has 8 egg holders. So total number of egg holders are 16. Steamer cooks eggs from soft to hard boiled.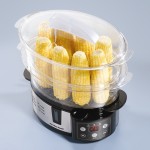 For steaming large products remove the divider and place them upright. Cover with the lid and steam. Steamer fits 7-9 pieces of corn on the cob, 1-2 heads of broccoli, cauliflower or whole chicken.
For steaming rice, add 2 parts water to 1 part rice in a rice bowl that comes with a steamer. Rice cooking time: white 20-25 minutes, brown: 40-45 minutes.
Hamilton Beach digital 2 tier food steamer steams cheese snacks, hot dogs, cereal and oatmeal in minutes.
The basket holes are almost same as a pea size, so the peas may fall through the holes. Use rice steaming bowl which comes with a steamer for steaming small green peas and other small items. Use same bowl to steam spinach.


Hamilton Beach Digital steamer 37537 warranty.
The Hamilton Beach Digital steamer has a 1-year limited warranty. To obtain warranty services:
Keep receipt as a proof of purchase. (The warranty period starts from the day of purchase)
Do not return steamer to a merchant (store where the steamer was purchased).
Have a product model, type, and serial number of your appliance ready on hand.
 Call custumer service in US  1-800-851-8900, in Canada 1-800-267-2826
Shipping costs are not covered under warranty.
Hamilton Beach Digital 2 Tier Food Steamer 37537
Pros
Steamer has a lot of integrated features: delay start, cooking digital controls, auto switch off when steaming circle is completed and auto keep warm.
Cooks variety of foods.
Compact for easy storage.
Lightweight, easy to clean and dishwasher safe, except for the base.
Cons
Steamer water reservoir doesn't have an external inlet (spout) to add water without interruption.