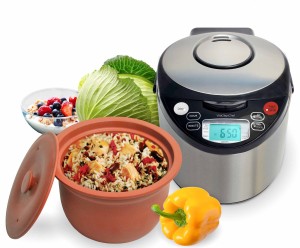 VitaClay smart organic multi cooker has brushed stainless steel exterior and clay inner pot. It includes rice cooker, slow cooker, yogurt maker and steamer functions. There are 6 cup and 8 cup multi cookers available.
VitaClay smart organic multi cooker features
4 in 1 built in functions: rice cooker, slow cooker, yogurt maker and steamer.
10 minutes up to 5 hours programmable cooking time (delay timer).
Easy to read LCD display.
When the cooking cycle is completed it switches to keep warm automatically.
Comes with clay pot, clay lid, measuring cup, rice paddle, instruction manual and recipe book from VitaClay.
1-year limited warranty.
The advantages of clay inner pot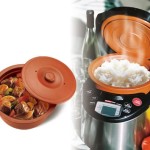 VitaClay clay inner pot is Aluminum & Lead Free. It's harmless for health. It's natural and suitable material for cookware due to its porous composition.
It naturally allows the heat to go through the pot inside and holds it for creating more steam and juicy full of flavor foods. It keeps nutrients and vitamins while cooking foods in their own juices.
VitaClay smart organic multi cooker cooks a variety of dishes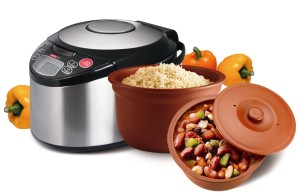 VitaClay multi cooker prepares soup, legumes, sauces, grains, meats, seafood and vegetables.
It has 7 cooking settings for white, brown, wild, sweet and sticky rice for sushi, porridge, hearty bone broth, stew, pot roast and more.
VitaClay multi cooker review
The idea of using clay to make a cooking pot was not new at all, because people in old times had only clay as a material for making resistant to high temperatures cookware.
But using a natural unglazed clay pot with high technology functions and stainless steel body was an awesome idea.
A bit heavy double lid creates better sealing and increases pressure.
VitaClay multi cooker prepares a whole meal with a push of a button faster than a regular multi cooker.
When using slow cooker mode, it comes to a boil faster than other slow cookers and then adjusts itself, reducing the heat for a slow cooking option.
As the heating element is situated outside of the clay pot food only contacts with the clay pot.
Use VitaClay smart organic multi rice slow cooker as a Yogurt maker.
You can also use VitaClay multi cooker as a yogurt maker.
Yogurt is very easy to make without VitaClay multi cooker, but it takes about 24 hours for bacteria to do its job so you can have delicious yogurt.
Do it yourself method for 1 bowl of yogurt requires:
1 bowl of a bit warm milk,
1 tablespoon with top of plain yogurt (regular yogurt).
Just add yogurt in a bowl with milk (don't mix, let the yogurt stay a whole piece inside the milk) and cover it with the plate and towel.Keep it in warm place. It will take about a day for the milk to turn into yogurt.
The only differences between the two methods is that VitaClay multi cooker will do it faster and also can make Greek yogurt and yogurt cheese. Check price


If clay pot cracks or breakes:
VitaClay customer service phone number to call: 888-880-0912.
Note: Comparing to other pots which are made from strong material which can only be scratched or a bit bended this pot is made of natural clay and it might crack over the time, also avoid using cool water over the hot pot it may lead to cracking.
Replacement pot can cost you $30-$35 + $14 shipping + tax.
Pot's price depends on the cooker model.
Note: VitaClay Customer service is not the best. It can take time to get new replacement pot.
VitaClay Smart Organic Multi Cooker Rice Cooker Slow Cooker VM7900 6-8
Multifunctional
10.0 /10
Organic
10.0 /10
Quality
10.0 /10
Cooking speed
10.0 /10
Easy to Use Technology
9.0 /10
Pros
Organic clay pot is aluminum & lead free.
Easy to use and cooks faster than other multi cookers.
4 in 1 build functions include: rice cooker, slow cooker, digiral steamer & yogurt maker.
Rice cooker functions allow you to cook a few types of rice.
Comes with rice puddle, measuring cup, VitaClay recipe book, instruction manual, with clay pot and clay lid, 1-year limited warranty.
Cons
Clay pot may develop cracks and even break, you will have to order new one in order to use it.