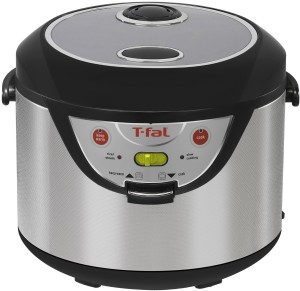 T-fal balanced living 3-in-1 20 cup rice cooker and slow cooker is made of stainless steel and plastic.
T-fal balanced living 3-in-1 20 cup rice cooker features
T-fal balanced living 3-in-1 20 cup rice cooker holds 10 cups of dry uncooked rice, yielding 20 cups cooked rice.
It comes with traditional t-fal nonstick pot which is 5-layer thick

ceramic

(about 1mm thick).

This cooker works almost like pressure cooker because of the locking lid which doesn't let the steam escape and keeps all the flavors inside.

To avoid steam overflow it has removable inner steam shield on locking lid.

The lid is attachable to cooker, it pops up to allow all the juice drip inside, after a few seconds you can open it.

Comes with plastic steamer basket, rice measuring cup, serving spoon and instruction manual.

Unit comes with detachable power cord for easy storage and insert-able condensation collector.

1 year limited warranty.
Made in China. Check price
T-fal balanced living 3-in-1 20 cup rice & slow cooker review
With its 3 in 1 built in functions it can replace 3 kitchen appliances and save space on counter top. It seems small but it cooks up to 20 cups of cooked rice.
How T-fal rice cooker cooker works
It has only a few buttons to manage all 3 cooking functions. It's a great choice for those who prefer to keep everything simple. It has no timer. When cooking cycle is completed it switches to keep warm automatically. Controls are easy to use. Rice & steam control button on one side and slow cooker control on other side, on & off, keep warm.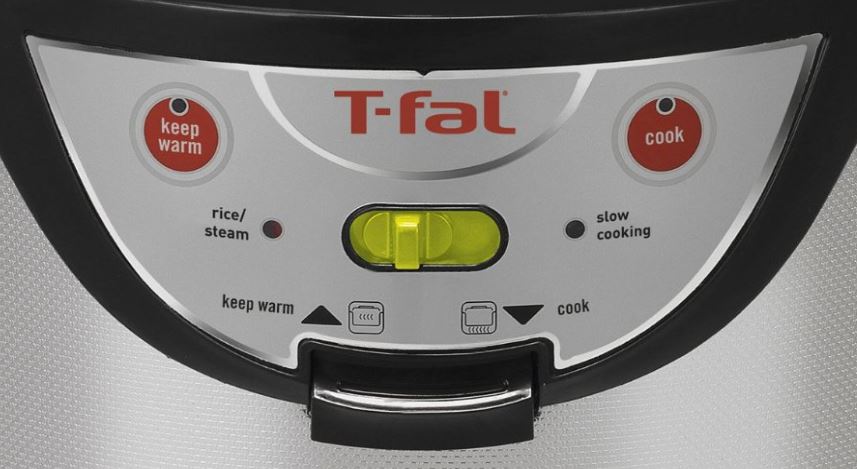 Cook various dishes in T-fal balanced living rice cooker
T-fal 20 cup rice cooker doesn't have extra settings for cooking brown, basmati or any other type of rice. The instruction which comes with a steamer only says about white rice. If you are willing to cook other than white rice add more water if required or less.
For example: for cooking brown rice add more water as it needs more time for cooking. Use measuring cup which comes with it. T-fal provided this unit with safe to use serving spoon. It's recommended to use this spoon or other wood or plastic spoon to prevent scratches on ceramic non-stick finish.
Use steamer basket that comes with the cooker to steam vegetables, chicken and seafood.
T-fal balanced living 20 cup rice cooker steams foods while rice cooks below. While steaming juice drips down and flavors the rice.
T-fal 20 cup rice cooker quality
This unit is made in China. However the quality of the T-fal rice cooker is good.
T-fal 3 in 1 rice cooker does all what it's supposed to do with minimum settings, beautiful exterior design and easy to clean non-stick ceramic pot.
The downside of this appliance that it could have accessories made of higher quality plastic or other material.
There is newer model of T-fal 3 in 1 rice & slow cooker available T-fal Cool Touch Stainless Steel Steamer 10-20 Cup (Cooked) Electric Rice Cooker RK1558US ( click on product name to open new window with newer model description)


T-fal rice cooker warranty
This appliance comes with 1 year limited warranty.
To obtain warranty services: You will need your receipt to obtain warranty services. (if you don't have a receipt T-fal will take into consideration the manufacturing date as a date of purchase to determine if your unit qualify for covered warranty services.)
Have product manufacturer number ready when you call T-fal. T-fal customer service number (1-800-395-8325 M-Th 8:30am – 5pm & Fr 8:30am – 4pm EST) For more information about refund and warranty click here. (it will open new tab with T-fal food steamers & rice slow cookers and full detailed information about warranty and refund)
T-fal Balanced Living 3-in-1 20 cup Rice Cooker Slow Cooker
Integrated Features
9.0/10
Pros
Built in 3 in 1 cooking functions and plus bonus micro pressure effect.
Easy to use minimum controls with auto keep warm.
Ceramic non-stick cooking pot.
Attachable pop up lid, detachable cord, condensation collector, plastic steamer basket, spoon and measuring cup.
Cons
Stainless steel unit with ceramic cooking pot should have accessories made of higher quality plastic.