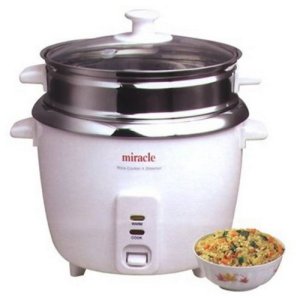 Miracle Exclusives rice cooker ME81 has grade 304 stainless steel inner pot, stainless steamer basket and a glass lid. It prepares 12 cups of cooked rice.
Miracle Exclusives rice cooker ME81 features
One cook button.

Cooks rice and oats, steams food.

Maximum 12 cups cooked rice capacity.

Stainless steel inner pot and stainless steamer basket

.

Automatically switches to Keep Warm when the cooking cycle is finished.

Cook and Warm Indicator lights.

Comes with measuring cup and rice paddle.

Vented see through glass lid.

Removable stainless inner pot, steamer and a glass lid are dishwasher safe.
Attached cord plugs into a standard American outlet.
Made in China.
How Miracle Exclusives rice cooker works
The secret of perfectly cooked rice is the right amount of water.
The cooker is easy to operate. It has one cook switch without time or temperature controls.
Miracle Exclusives rice cookers stainless steel inner pot has water level markings inside. 
For example: for 2 cups of uncooked dry rice use water line marking inside the pot and fill with water up to line 2. You can adjust the rice firmness to suit your taste. For softer, fluffier rice, add a little more water, for harder and firmer rice add less water.
It's recommended to use a measuring cup that comes with the cooker to get perfectly cooked rice. Brown, red and wild rice require more water due to longer cooking time.
The instruction booklet that comes with the cooker says that 8 cups of uncooked dry rice yields 12 cups of cooked rice. But usually 6 cups of dry uncooked rice yields 12 cups of cooked rice. 
The glass lid allows you to monitor rice cooking process. It's removable for easy cleaning. During cooking steam comes out through the vent on the lid. When the cooking cycle is completed it switches to keep warm automatically.
Multi purpose Miracle Exclusives rice cooker 
Miracle Exclusives rice cooker ME81 with one cook button prepares soup, sauces, oatmeal, boiled eggs and rice.
The stainless steel steamer basket that comes with the cooker allows you to steam vegetables and meats while rice cooks below. While steaming vegetables, chicken, fish or shrimp all the juice drips down and flavors the rice. When cooking rice and steaming foods leave some space for the rice to expand.  For steaming vegetables, meats or seafood without rice, add enough water to the inner pot, insert the steamer tray with products and steam required time.


Miracle Exclusives Rice Cooker ME81 with Stainless Steel Inner Pot