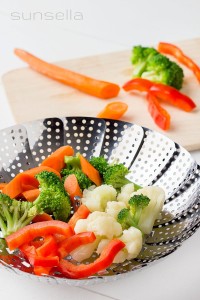 Sunsella stainless steel vegetable steamer is a collapsible steamer basket with stainless steel legs that requires additional pot with lid. It opens like a flower from 5.3″ to 9.25″ diameter. It prepares 1-2 servings of food. It's safe to steam baby food.
How to use Sunsella stainless steel vegetable steamer basket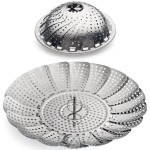 When you get a Sunsella steamer from the package, you will find it collapsed. Just place finger in the hole and pull it, it will open. It fits a variety of pots due to expandable and collapsible wings. The steam basket wings are collapsible for easy storage. The basket size is small. It prepares only 1 full serving of food or 2 side dishes. The basket has 3 stainless steel legs that are not very long. Check price
For steaming: add some water in a pot (leave some space between the water level and a basket, so boiling water doesn't reach your veggies). Cover the lid and steam for required time until the desired crispness or softness. When it's ready, open the lid and let the steam out. Use mittens to hold the ring and pick it up. Serve vegetables on a plate or bowl.
Sunsella vegetable steamer review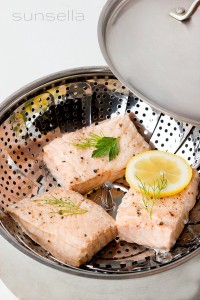 Comparing to other stainless steel steamer baskets with aluminum legs,
Sunsella stainless steamer has stainless steel legs. The legs can scratch the non-stick coating of the pot. It's recommended to use a steamer basket with stainless steel pot or pan.
The basket legs are not long, so you can't add a lot of water and forget about it. For steaming products with longer cooking time you have to watch the water level in your pot and add some more if needed, so you don't burn the pot. The center post in the middle is not long, so you have to be careful when lifting the steamer to avoid burns.
Sunsella steamer basket features
Stainless steel construction.
Steams vegetables, fruits, eggs, dumplings, seafood and poultry.
Collapsible for easy storage.
Diameter 5.3″ to 9.25″
Height with legs 2″ to 3.35″
Dishwasher safe.
Made in China.