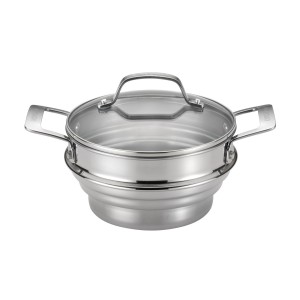 Circulon 70135 stainless steel universal food steamer with lid  is not a complete full steamer, it's just a steamer insert with a lid and requires an additional pot. It  fits 2-quart, 3-quart, 4-quart capacity pots and works almost with any circular cookware pots. Due to its tapered shape it will work with straight-sided, taper-shaped and tulip-shaped deep circular pot from any brand.
How deep steamer will sit in another pot depends on the pot's top diameter.
Circulon 70135 stainless steel universal food steamer insert d

imensions.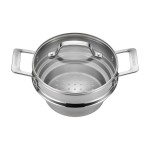 The steamer dimensions are 6″ across the bottom, 7″ across the middle, 8″ across the top and 4″ high. It's recommended to use it with a pot which dimensions at least are 6.5″ to 7.5″ across on top and 6″ high for convenient steamer insert and steaming up to 2 pounds of any desired products.
Circulon stainless steel universal steamer insert is oven safe.
Circulon steamer insert is made of stainless steel and oven safe to 500 degrees F. It's dishwasher safe, and consists only of two pieces that makes cleaning easy.
The downside of the Circulon food steamer insert is that stainless steel handles are not heat resistant and may get hot if you are cooking or steaming more that 15 minutes. Circulon universal steamer is only one steamer insert it will allow all the flavors of food in it to mix.
The benefit of it is that it allows you to cook sauce, soup or even second dish like stew, rice and many other dishes in a pot and steam veggies including head of broccoli, sweet potatoes, corn, squash and pumpkin all at the same time.
Circulon universal steamer is suitable for a small or medium size family. The glass lid sits on the steamer insert tightly to provide even steaming and also gives more control over the cooking process. It allows you to watch the food without lifting a lid, which keeps all the heat and moisture inside for faster steaming.
Circulon universal stainless steel steamer durability.
Unlike electric steamers which are eventually stop working due to integrated electric and digital functions and need repairs which will cost money in most of the cases and take time as well, this Circulon universal steamer insert will work for years and does not require any repairs, if the glass lid used with care. For steaming large products cut them into pieces.


Circulon 70135 Stainless Steel Universal Food Steamer Insert with Glass Lid Oven Safe
Stainless Steel Construction
10.0/10
Pros
Works almost with any circular cookware pots
Oven safe to 500 degrees Fahrenheit
Allows you to cook different dishes at the same time using any extra pot from circular family.
Tight glass lid allows you to monitor cooking process without lifting it for faster steaming.
Lifetime limited warranty.
Cons
Stainless steel handles are not heat resistant
Allows all the food flavors to mix together