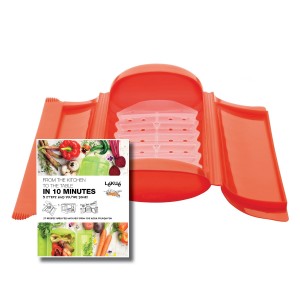 Lekue steamer/steam case is made of silicone to steam 1-2 servings of food in the microwave or oven. It steams veggies, chicken, fish, shrimp in minutes. There are green and clear steamers available.
Lekue microwave steamer-steam case 

features
Made of silicone.
Steams 1-2 servings in minutes.
Microwave, oven and freezer safe.

Food is cooked at the perfect temperature (between 200F and 212F)

Comes with Lekue cookbook "From the Kitchen to the Table in 10 Minutes" with 27 recipes and other tips and tricks to improve the taste of your dishes.

Use it as a steamer or without tray for "stew-type" cooking.

Lightweight and easy to store.
Handy for travel.
Dishwasher safe. Check price
How to use Lekue steamer case safely
Silicone is non-stick and safe material, but it gets flimsier (soft) while heating. Steaming food using a silicone steamer case in microwave requires a little bit of water.
Lekue steamer steams chicken, vegetables, fruits, fish and other seafood products in a few minutes. When removing steamer from the oven or microwave, hold it carefully from both sides, to avoid water spills and burns. You can also put the stem case on a plate and place into a microwave. When food is steamed, remove the plate with a steamer.
Lekue microwave steamer-steam case 

review

Lekue microwave steamer is suitable for travel. It's lightweight and doesn't take a lot of space. You can cook home style, delicious meals using microwave at work or in a hotel room. It looks good on the table. Food can be served directly from it.

The long shape of the steamer allows you to steam long fish fillets an asparagus.