Secura steam rack basket set

.

This set was designed by Secura for 6 quart pressure cooker, but it can also fit other pressure cookers models made by other brands. (Check dimensions below).

Secura 6-quart electric pressure cooker steam rack basket set is a great option to steam foods in a pressure cooker without a steamer.

The pressure cooker steams food faster than the steamer, because it doesn't allow steam escape at all. The pressure cooker directs all its steam and heat to steaming foods only.

Steam rack has 3 short legs 1 1/2″ long to keep basket over the water.With steam rack basket set you can steam any food that you would steam in a steamer.
 Steam rack basket set material.
Both steam rack and basket are made of sturdy stainless steel.
Folding handles are made for easy storage and easy basket lifting.
Handles are made of stainless steel.
Rack and basket are dishwasher safe.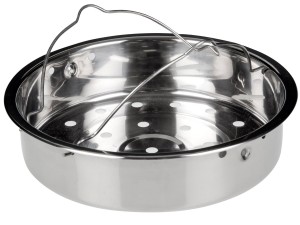 Steam set dimensions.
Not all the pressure cookers come with steam rack and basket accessories. If  your unit didn't come with steam set, you may get one to use your pressure cooker as a steamer sometimes.
But first check the measurements of your pressure cooker to make sure that this rack and basket set is what you exactly need.
Rack:
diameter   8 1/4″
high 1 1/2″
Basket:
across on the base   7 5/8″
across at the top    8 1/2″
high    2″
Keep set in pressure cooker for easy storage. (Optional)


Secura 6-quart Electric Pressure Cooker Steam Rack Basket Set