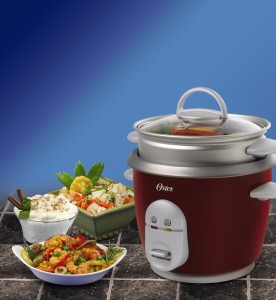 Oster 6 cup rice cooker is an electric multi purpose cooker & steamer with nonstick aluminum inner pot and steam tray. It prepares a variety of rice and dishes with one cook switch. 
Oster 6-cup rice cooker features
One Cook switch. Auto shut off.
Holds 3 cups dry rice yielding 6 cups cooked rice.
Cooks oatmeal, stew, soup, fondue and more.
Aluminum non-stick removable inner pot.

Comes with 1 quart steam tray, measuring cup and rice paddle.

Vented glass lid.
How Oster rice cooker works
The secret of perfectly cooked rice is the right amount of water. It's recommended to use measuring cup to get perfectly cooked rice.
Oster rice cooker cooks as little as 1 cup of dry rice.
Fill rice cooker with products and water, then turn it on.
The cooking starts immediately.
Vented glass lid allows pressure to escape without losing steam and moisture.
When the cooking cycle is completed is switches to keep Warm automatically.
It also switches to KEEP WARM if there is no enough water (steam).
To switch off keep warm function you have to unplug the cooker.
Multi purpose Oster rice cooker
The Oster rice cooker is versatile. It prepares 2-3 servings.
Oster rice cooker cooks a variety of rice and grains (just add more water if needed). It also cooks soup, stew and oatmeal.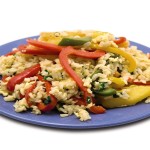 Oster 6 cup rice cooker steams meats and vegetables while rice cooks below. Always leave some space for the rice to expand. During the steam-cooking process juice drips down and flavors the rice.
Rice cooker available in Black color.


Oster 6-Cup Rice Cooker and Steamer