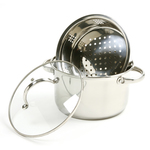 Norpro stainless steel 4 quart steamer pot is a multi purpose mirror polished stainless steel steam cooker with a steamer insert and a glass lid.
Norpro 4 quart steamer pot construction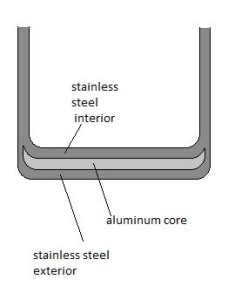 Norpro stainless steel steamer pot has 3-ply encapsulated base. 3 different metal layers bonded together. An aluminum disk is placed between 2 stainless steel layers to provide even heating.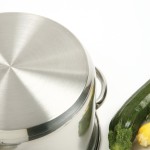 The stainless steel interior finish is easy to clean. The stainless steel exterior layer is made of non-magnetic stainless steel so it's not induction compatible. All 3 metal layers make the base thicker and durable.
Small vent on the lid allows pressure to escape, without loosing steam and moisture.
Norpro stainless steel steamer and pot capacity
The Norpro steamer pot prepares 2-3 servings.
Steamer & pot capacity:
The pot capacity is 4 quarts/3.8 liters.
Steamer insert capacity is 1.5 quarts.
Multi purpose Norpro 4 quart stainless steel steamer pot
Norpro steamer pot is versatile. It steams vegetables in the steamer insert while food cooks below.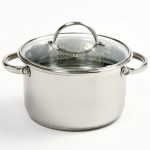 The pot can be used on its own to prepare stew, soup, sauces and more. Since the steamer insert sits inside the stockpot, when cooking soup and steaming vegetables at the same time, allow some space between the soup level and a steamer insert bottom, so the boiling soup does not reach the vegetables in the steamer.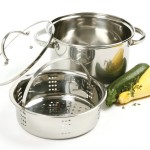 Steamer insert fits the pot tightly.
It steams vegetables and meats.
Norpro steamer pot care
The polished stainless steel steamer is easy to clean and dishwasher safe, but it's recommended by Norpro to hand wash and dry the set to keep it shiny like new.


Norpro Stainless Steel 4 quart Steamer Pot
Polished Stainless Steel
10.0/10
Pros
Polished stainless steel steamer pot with 3 ply encapsulated base.
Vented glass lid releases pressure, but keeps steam & heat.
Multi purpose: steams & cooks.
Cons
The handles and lid knob are made from stainless steel and do get hot( but not extremely hot).