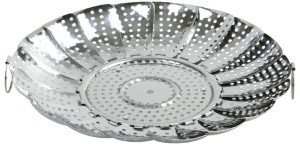 Norpro 176C vegetable steamer is stainless steel collapsible steamer insert that expands from 5.5″/14cm to 9.5″/24cm with 2 loop handles for easy lifting.
Stainless steel vegetable steamer insert can steam, large vegetables such as heads of broccoli, artichokes, sweet potatoes, squash, cauliflower, carrots, corn, long green beans, small green peas, fruits, fish, shrimp and dumplings.
Norpro stainless steel vegetable steamer insert features.
Stainless steel construction.
E

xpands from 5.5″/14cm to 9.5″/24cm.

Collapsible for easy storage.

Requires additional pot to insert a steamer inside.
How to use
stainless steel vegetable steamer insert.
Add some water in a pot. Make sure that water doesn't reach the steamer.

Steam required time or until desired tender-crisp stage.
When steaming circle is finished don't take stainless vegetable steamer out of the pot right away, hot steam may burn your hands. Instead, open the pot, cover and leave it open for 2-3 minutes to let the hot steam escape.

Then take the steamer insert out and serve vegetables as a side dish or as a main dish with dressing.
Norpro 176C Stainless Steel Vegetable Steamer Insert