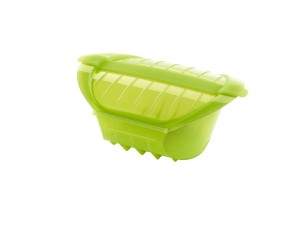 Lekue Ogya microwave, X-large steamer pot is a silicone deep steam case designed to steam-cook pasta, rice, vegetables, soup, stew and whole chicken. It gets soft during heating. Small handles on the sides of the pot allow you to remove the pot safely.
Lekue microwave silicone steam case prepares 1-2 servings. It's lightweight and handy. It can be used at home, work or in a hotel room.
Lekue microwave silicone steam case features
Made of silicone.
1 L capacity.
X-large steam case/pot prepares 2-3 servings of food.
Cooks pasta, vegetables, rice, soup or stew.
Microwave, oven and freezer safe.
Comes with recipe booklet.

Dishwasher safe.

Cooking times depend on the individual microwave.
Lekue microwave steam case cooks a variety of dishes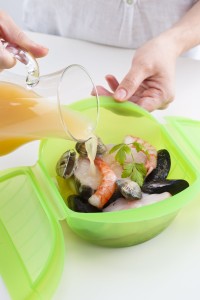 Deep Lekue silicone steam case allows you to steam easy and delicious rice dishes with vegetables. Since rice needs more time to cook, cook rice first, then add vegetables on top of the rice and continue steaming until the food is done. You can always adjust rice firmness adding a little more water or less.
For cooking pasta use One pan-no boil-no drain pasta. It requires a minimum amount of water. Cook pasta first, then after water is almost absorbed add vegetables and cook for another 2-3 minutes.
Lekue silicone steam case looks nice, food can be served directly from it.
For easy and safe transfer put a dinner plate under the steam case and put it into the microwave oven. This makes it easier to remove cooked food as the plate is cool and you can put it right on the table. Check price