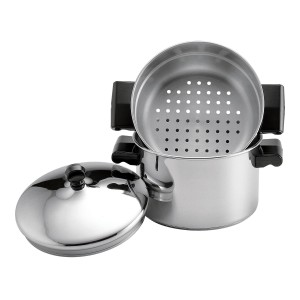 Farberware 3 quart steamer pot is a small mirror polished stainless steel multi purpose cooker with steamer insert and a stainless steel lid. It prepares 2-3 servings of food.
Farberware stainless steel 3 quart steamer pot features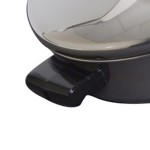 18/10 polished to a mirror finish stainless steel construction with 3 ply encapsulated base.
Stainless steel lid fits steamer and pot.
Oven-safe to 350 degrees F.
Dishwasher safe.
Made in Thailand. It comes with l

ifetime warranty against defects.
Farberware steamer pot construction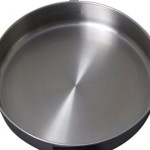 Farberware steamer pot is made of heavy 18/10 polished to a mirror finish stainless steel.
It has 3 ply encapsulated base with aluminum core. Aluminum is lightweight and corrosion resistant metal. Aluminum layer provides even heating. 3 metal layers make the base thicker and more durable.
The handles and knob on top of the lid are made of plastic.
Farberware steamer pot measurements
The pot is 3 quart capacity. Steamer is 2 quart capacity.
Pot is 4.5″ deep and 7″ wide.
Steamer is 3.5″ deep. check price
Multi purpose Farberware steamer pot
The pot can be used on its own for cooking soup, stew, sauce and more.
Farberware steamer is suitable for steaming baby carrots, potatoes, asparagus, chicken breast and more. The steamer holes are not big. Small green peas can be steamed in the steamer without placing them in another dish or ziploc bag.
Farberware steamer pot has domed lid. It allows you to steam 1-2 heads of broccoli or cauliflower.
Add about 1 inch of water in a pot. Place the steamer insert with the vegetables, cover the lid and steam until desired softness.
Farberware cookware manufacturer details
Meyer Corporation owns the license for all cookware produced under the Farberware brand. So if you see somewhere on your cookware or when you are buying it from online or retail store, something mentioned about Meyer Corporation don't be confused, all products including steamer are manufactured by Farberware and distributed by Meyer Corporation.


Farberware Stainless Steel 3-Quart Steamer Pot
18/10 Stainless Steel
10.0 /10
Durability
10.0 /10
Functionality
10.0 /10
Easy to Use
10.0 /10
Easy to Clean
10.0 /10
Pros
Steamer is made of quality 18/10 polished stainless steel.
Steamer & pot are oven-safe to 350 degrees F.
Cons
Plastic handles and knob are advertised as stay cool, but they do get hot (but not extremely hot).