Steamer insert or steamer basket? What is the difference? The steamer insert is not a complete food steamer. It's an accessory with perforated base that can be used with a pot or pan to steam foods. Some steamer inserts come with lids, some don't. The steamer insert that comes without a lid and sits inside the pan is also called a steamer basket.
The steamer insert and steamer basket are designed to steam vegetables, fruits, dumplings, meat, poultry and seafood.
                 Steamer insert & steamer basket types
There are many steamer inserts and baskets on the market. Some of them are made of stainless steel, some are made of silicone.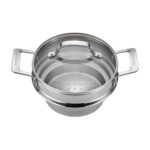 Stainless steel steamer insert with 2 or 3 step base fits any circular pots with different capacities, from any brand and called a "universal steamer insert".
Steamer insert can be inserted inside of a pan that has 1 inch of water or placed over the pan to rest on the rim.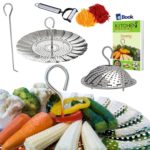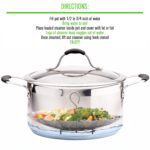 The collapsible steamer basket expands to fit any pot size and collapses for easy storage.
There are also plastic and food-safe nylon steamer inserts, but we don't recommend them because nylon inserts are usually made with plastic parts (that melt on low or medium heat).
We reviewed best steamer inserts and steamer baskets that are made by different brands and listed them below.


                  Best Steamer Inserts & Steamer Baskets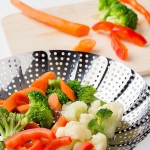 Sunsella stainless steel vegetable steamer is a collapsible steamer basket with stainless steel legs that requires additional pot with lid. It opens like a flower from 5.3″ to 9.25″ diameter. It prepares 1-2 servings of food. It's safe to steam baby … Read Review