There are many steamer baskets and steamer inserts on the market.
We reviewed steamers that are made by well known and trusted companies.
Some of them are made of stainless steel, some are made of silicone.
The types of steamer baskets and steamer inserts
The steamer basket is not a complete food steamer. It's an accessory with perforated base that can be used with a pot, pan or instant pot to steam foods. Steamer basket can be inserted inside of a pan that has 1 inch of water or placed over the pan to rest on the rim.
The steamer basket that expands to fit any pot size and collapses for easy storage is called collapsible steamer basket. The steamer basket that comes with a lid is also called a steamer insert.
Stainless steel steamer insert with 2 or 3 step base fits any circular pots with different capacities, from any brand and called a universal steamer insert.
There are also plastic and food-safe nylon steamer inserts, but we don't recommend them because nylon inserts are usually made with plastic parts (that melt on low or medium heat).


The steamer insert and steamer basket are designed to steam vegetables, fruits, dumplings, meat, poultry and seafood. These stainless steel and silicone steamer baskets and inserts are suitable to cook food for the whole family including babies. Below is the list of the best steamer baskets and steamer inserts.
               Best Steamer Baskets & Steamer Inserts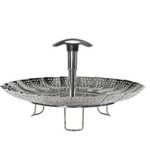 OXO Good Grips stainless steel steamer is a collapsible metal steamer basket with removable handle that is suitable to steam small and large vegetables, whole chicken, large fish fillets and other seafood products. It fits pots 8" in diameter and up, pressure cooker or multicooker. It opens up like a flower expanding the sides. The removable and extendable handle is a very handy feature. It allows you to steam, large vegetables such as head of broccoli, sweet pumpkin, corn on the cob and … Read Review