Beaba is a French company that was founded in 1989. The company manufactures baby products and food makers. They design food makers in France and manufacture them in China.
                  About Beaba Babycook baby food makers
Beaba babycook baby food makers are designed to steam, blend, defrost and reheat foods for babies and toddlers. They are easy to use and clean. They are available in 3 different colors: sorbet, mint latte and gipsy.
Beaba Babycook food makers are BPA, lead and phthalate free.
We reviewed best 3 models with different capacity and created a list of the best Beaba Babycook baby food makers.
                  Best Beaba Babycook Baby Food Makers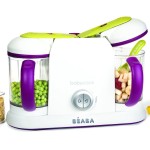 Beaba Babycook Pro 2X baby food maker with 2 separate compartments is a large BPA, Lead and Phthalate Free plastic steamer and blender with stainless steel water reservoir and 9.4 cup capacity for babies and toddlers that steams vegetables, fruits, fish, chicken and blends … Read Review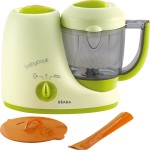 Beaba Babycook Classic food maker for babies and toddlers is a handy all in one steamer and blender for moms that steams and blends any stage of baby food from vegetables, fruits and chicken in 15 minutes. It also defrosts and reheats … Read Review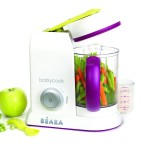 BEABA Babycook Pro baby food maker is a steamer and blender that prepares any stage of baby or toddler food from purees to solid foods in 15 minutes and makes baby food preparation easy even for first time moms. It steams … Read Review